Joel Harkimo will replace Joakim Hildén who has been in charge of the s/y Belmont project since 2016.
Swan 51 s/y Belmont is proud to announce that Joel Harkimo will be taking the helm of the s/y Belmont project. Harkimo is currently a managing partner of Starsquad Events as well as the son of Harry "Hjallis" Harkimo, who successfully competed in the single-handed BOC Challenge Around the World 1986-87 with s/y Belmont. Joel Harkimo himself has a rather public background in sailing having sailed across the Atlantic in the reality television show, "Atlantin yli".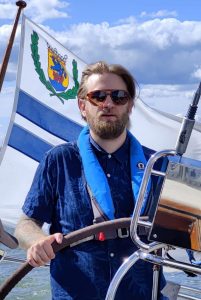 s/y Belmont is a dream boat for me. When I was a kid, my father told me about his solo sailing and the big adventure. I have not however had much to do with s/y Belmont, so I am very excited to be a part of this project. In a way it is a dream come true for me. I also get to go sailing with the boat and can't wait to show it to my partner Janni!

-Joel Harkimo
Joel Harkimo will succeed Joakim Hildén who has been in charge of the s/y Belmont project for the past 5 years. Hildén will continue as board member of the company.
The change in leadership comes at the same time as the company is transitioning to a social enterprise while continuing the company's legacy of guarding a piece of Finnish sailing history as well as its various charity based endeavours working with the likes of John Nurminen Foundation, Helsinki Missio and Sea Scouts. All subsequent profits will be used for the upkeep, operational costs and charity.
I am more than happy to hand over the helm to Joel, especially so now that our s/y Belmont project is officially a social enterprise. Even though the project has run as a 100% pro-bono project ever since we acquired s/y Belmont, it is now easier for the public to realize that all we have done in the past, and will do in the future, is solely for the benefit of preserving a piece of Finnish sailing history and for enabling us to do charity work.

-Joakim Hildén.
S/y Belmont, which is based in Lauttasaari, Helsinki is currently gearing up for the coming sailing season with events such as the Swan European Regatta 2021 close on the horizon.
Joel Harkimo will begin his journey in charge of the s/y Belmont project with immediate effect.
Contact:
Piu Nyberg
sales & marketing
piu.nyberg@sy-belmont.com